Customer Reviews
See what others are saying about selling as is to Coco & Cash of Home Theory.
Everything! I wish everything in life was as easy as selling our house to Home Theory. Super fast, personable, stress free, and fair price. I would definitely recommend Home Theory to anyone not wanting the hassle of selling their house the traditional way😊
If you need to sell your property quickly, at a fair price, and without any issues, Home Theory can help. They work quickly to close on the sale and cover all closing costs!
Courtney is amazing. very easy to talk to. the whole group is nice. straight forward. explained the whole process every step.
Great Staff, Awesome process. They always kept me informed and helped me out. Courtney is Fantastic!
The people are friendly and very professional. They will help you any way they can. If you don't understand anything you tell them and they will break it down and help to understand everything. Some of the most nicest people you can deal with, when selling your house.
Home Theory made the sale of our home effortless. They were very professional and responsive to my questions. A key attribute is to have constant truthful communication during the process and they did that. Thank you again.
My husband and I searched for the right company to buy our home when we decided it was time to start our next chapter of our lives. Home Theory surpassed our expectations. They were there every step of the way to answer questions. When they offer a price for your home, that's exactly what you get. This was the best decision we could have made. Thanks so much for your help through this process.
Home Theory made it so easy and painless to sell my house. I have sold two houses now!! They are very responsive and supportive. The process was so easy, I couldn't believe it. Please call them if you are thinking of selling!
Professional, honesty and straightforward in all dealings, And understanding all problems anyone will be facing
When showing the house to the buyers they were very professional and friendly. The offer was fair and after initially deciding not to accept, they were very receptive when I changed my mind. They were also very accommodating to the fact I did not want to move until a certain date. Throughout the entire process I felt they had everyone's interest in mind, not just their bottom line. I appreciate the level of professionalism and their ability to understand my concerns. I highly recommend doing business with this company.
Fast and efficient! I had wanted to sell for a long time, but didn't want to go through the normal process, this worked pretty seamlessly!
The Home Theory team were very professional and polite. The same day qoute was competitive and amazing. The entire closing process was easy-peasy as well as thorough. We highly recommend their service! M&T Dunnahoo
The easiest and most professional business exchange I have been a part of in recent years. Courtney was nothing short of perfect. Thank you for everything!
i work for home theory and it's a wonderful place to work!- courtney is a great boss/mom/person. you will always be seen and heard! definitely my favorite job. 😁
I sold my home to Home Theory after receiving offers from 2 other companies. One company offered me a LOT LESS. The other company offered me slightly more but did not seem as reputable as Home Theory. I have not regretted my choice. They were true to their word about being flexible with my time frame for moving out and even though they experienced a rare snafu with their lenders, they made sure that their agreement with me was carried through. It couldn't have been an easier transaction.
We were wanting to sell our home because of some expensive repairs we could not afford. So we were hoping to make a bit more than what we owed on the home. We went the a few people and they were wanting to just offer us the amount we owed or a couple a thousand over. Home Theory called us, came out the next day, and offered us more then the others and pretty close to the value we figured the house was worth (for location and square footage). We signed the paper agreements and a couple of days later, we sold them the house. They even worked with us, providing time for us to move out. Everyone was so friendly and helpful in explaining the whole process (it was my husband and I's first home). I would completely recommend them to anyone looking for a great deal and an easy, quick sale.
Finding a home can be a drag but Home Theory definitely helped ease all my worries. Courtney and Cash have been nothing but professional, kind, and courteous throughout the entire process. I would recommend Home Theory anyone looking for the comforting route to home buying and selling.
Working with HOME THEORY was one of the BEST CHOICES for me. They purchased a rental property from me. The transaction was PROFESSIONAL and QUICK! They were upfront and honest during the entire process. I HIGHLY RECOMMEND HOME THEORY for anyone considering selling! There are lots of companies out there making a lot of promises, HOME THEORY DELIVERS! Call them TODAY!
We had a fantastic experience with Home Theory selling our home at 3909 Sagamore Hill Court, Plano, TX. Courtney was an amazing agent! She gave us appropriate comps, good advice on where to price, and we had 2 above ask offers within 2 days of listing! Spencer Daily and I would both recommend Courtney to anyone looking to sell! Thanks Courtney!
Working with Home Theory has been a great experience! The team is professional, knowledgeable, honest and sincere. I highly recommend them for all your real estate needs!
I received an email asking me to leave a character review concerning Mrs. Courtney. The first time my wife and I meet Mrs. Courtney, she was very up front and honest. She made us an offer only to say that we weren't ready to sell. She was not pushy by any means which shocked my wife and I. About a year and a half later,she contacted us again and said she thought she could offer us more. Certain life issues arose that put us in a position to make the move. After the process had started, my wife became ill of which I contacted Mrs. Courtney to let her know what was going on. She was very supportive and always asked about my wife. She went out of her way to get signatures or anything else we needed. I've heard that selling or buying a house can be a very stressful event. Mrs. Courtney made the entire event as easy as possible. Even with the events my wife and I were facing. If we had to do it all over again, we would definitely request Mrs Courtney to assist us. Thank You for the opportunity to share. In Him, Robert
Wow! What an easy and uncomplicated process of selling my family's home using Home Theory. We had three companies review and place bids on this home, but Home Theory was the only one that did not: 1) try to 'lowball' us, 2) misunderstand the market and not have any idea of current market conditions and 3) try to glorify their 'reputation' in the market to rationalize their low offer. To the contrary, an appraiser and an estimator showed up (very courteous and professional), explained the process, performed their jobs and provided a viable offer on our property before they left. GREAT company to deal with and I would readily recommend them to anyone!
They went above and beyond their duties to make sure I understood the process and even helped me as I was trying to find a new house. I was always given every courtesy and have made friends for life.
I want take this time to tell Courtney Lawless for all da help with my brother house after his death me not knowing any about selling a house especially only been. to TX 2 time in my life so if you want to sell ur home. i highly recommend Home Theory again thank you Courtney god bless u!
Decided to sell my mom's house after she passed. Courtney and her team were responsive and very respectful of the home I grew up in. She had an offer to me quick and worked with me to close on it at my pace. I highly recommend Home Theory!!!
Easy process they will stay on top of everything very patient and caring...The new way of doing things..
When I decided to sale my house, I wasn't sure how to even began. Home Theory was there for me. Courtney was wonderful. She answered every question I had, many times. My new sister. I highly recommend Home Theory. Thank you again. .Connie Downs
Home Theory was wonderful with helping me sell a family home. Courtney was extremely helpful even when there were a lot of obstacles with our property. I highly recommend Home Theory.
We had a unique situation and Home Theory walked us through the process and answered questions making the decision to sell them our home an easy decision. Courtney is fabulous and jumped through hoops for us, we can't thank her enough.
Great people to work with when selling your home. Wouldn't recommend anyone else 👍😁
They r great people very nice & caring they rock
Home Theory was God sent! We needed to sell a house fast. I have to admit at first I was skeptical. But, Courtney was the greatest! She made it happen! Fast, efficient, and dedicated to serve. She worked diligently to make sure that things went exactly the way she described it from the beginning to the end. Not only was it cash, and carry, but Courtney became a lifetime friend.
Friendly and fair. Made a good deal. Prompt contract. Good title company assisted in everyway possible to meet all my requirements closed in 7 days.
I was new to selling my house and had a lot of questions. Courtney was very open and honest throughout the whole experience. We even got to pick our closing date! I would work with them again and I even suggested them to a friend who is interested in moving soon.
Our dad passed away and we wanted to sell his house. From day one when I contacted Courtney I felt very comfortable with this sale. She was quick to get out to the house and give us an honest quote. We had some legal battles to get over with one family member, but Courtney assured me she wasn't going any where. Courtney has been absolutely amazing. If you are looking for a company who is honest and true you have found them. God Bless You Courtney L.
I can't think of two better people I would want to work with. Cash and Courtney are amazing and will keep your best interest in mind every step of the way. They are passionate about what they do and are very dedicated! They work hard for their clients and are just all around great people! They are a blessing in my life and can be one in yours too! If you want to sell your home, give Home Theory a try! You won't regret it!
Cash and Courtney with Home Theory are the best! I have had the pleasure of knowing several homeowners who chose to sell their home with Home Theory and have only heard wonderful things. They are fair, honest, responsive and truly care about their clients and their needs. If you are looking to sell your home 'as is', I would highly recommend Home Theory.
Awesome, Quick and Hassle Free! Glad I picked Home Theory. Courtney was super sweet and made it so easy to sell me home.
Cash and Courtney are committed to their circle's success. They are a great team to work with from start to finish. Their passion is clear the first moment you talk to them. Thanks for your friendship guys.
Character and integrity are rare qualities in today's work environment. So it is especially enjoyable to work with Someone like Courtney who posses both those attributes. Such a rare pleasure to find that in such a hard working person and team!
Home Theory delivers on their promises and are a joy to work with. Look no further if you want to sell your house fast and at a fair price.
This is a seriously on-the-ball team. They're fast - efficient - know their stuff and have exceptional "bedside manner". Courtney in particular is a class act. Great to work with.
I had a wonderful experience with Home Theory. Courtney was terrific to work with. She listened to me and genuinely cared about my concerns and needs. She answered all my questions. This company is completely trustworthy. I highly recommend them if you are looking to sell your house as is. I feel that I was treated very fairly and with respect. They say what they can do and do what they say. I am so glad I found them! Thank you all for everything!
Cash and Courtney are incredible! They taught us so much and are humble, servant-hearted, and excellent with what they do. Extremely trustworthy people worth doing business with!
It's reassuring to work with people that care about what they do – especially when it comes to YOUR home. Cash & Courtney are authentically caring, and dedicated to offering a premium experience for their customers. You can trust them to help your home transition.
Cash and Courtney are committed to excellence in everything they do. They have an incredible work ethic and diligently serve their clients to ensure a positive experience.
I have had the privilege of being introduced to Courtney over seven years ago. She is a natural servant leader. The whole time I have known her I have admired her worth ethic as well as her commitment to integrity in word and deed. I am a better person for knowing Courtney. I would highly recommend being a part of anything Courtney has to offer!
Had a great experience with you guys! appreciate it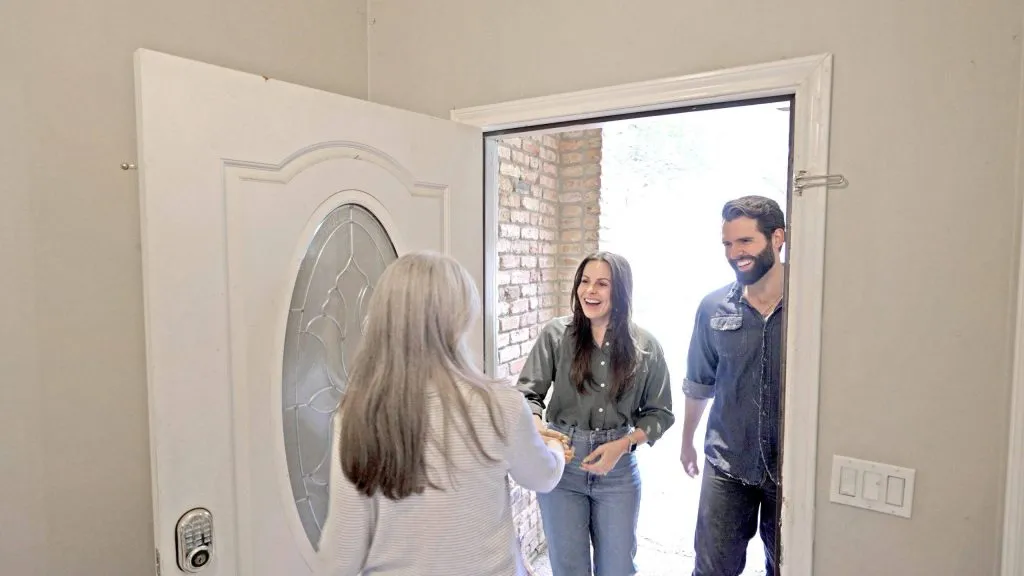 How It Works
Meet Coco and Cash, owners of Home Theory. We buy houses as is for absolutely top dollar because there are no middle men taking a cut! You make 100% of our offers and pay no repairs, pay no fees, and no closings costs. It's that easy.
Selling a house can be stressful. We get it. That is why we are here. We make selling a house as easy as it can be. Selling your house us is the fastest easiest way to get top dollar for your house today. We have been buying houses as is for more than 10 years, and have purchased over 1,000 homes! There is no home we can't buy and there's no situation we can't help with! Just see what our sellers have to say!